The Vegas of China, Macau has a reputation for being the rich kids playground of China, but beyond the main strip of glitzy casinos and luxury hotels are the remnants of the city's colonial buildings that line the cobbled streets. It's the ideal destination for a quick getaway, or stopover, so here is how you should be spending your 48 hours there...
GETTING THERE
The best time to visit Macau is either May or September, where you can enjoy the outdoor pool and relax in the sun without melting. The summer months are best avoided as it become insanely hot and humid. It takes only an hour by high speed ferry from Hong Kong or if you want to travel in style, why not take a private helicopter. It's the quickest way to go taking just 15 minutes and offering stunning views over Hong Kong & Macau.
How would you describe Macau in three words? Vibrant, cultural and luxurious.

Divided into two islands; Taipa & Coloane and connected by the Cotai strip, we recommend visiting both sides of the region. 
DAY 1
10.30AM As you step off the ferry (or helicopter) jump in a taxi and make your way to the iconic 17th-century ruins of the Church of St. Paul for your cultural intake. If culture is what you are after, the historic centre of Macau, a UNESCO world heritage site houses 20 other locations that 
are reminiscent of its Portuguese & Chinese heritage. 
12PM Getting hungry? For lunch be sure to stop by 
the Galaxy Broadway Resort
where there is an entire street of small restaurants offering a range of local specialities, including the 
famous Macau egg tarts, to the Michelin starred dim sum specialist Tim Ho Wan. *Don't leave without trying the Portuguese egg tarts, our favourite are the 
ones in Lord Stone's Bakery.
Broadway Food Street, Broadway Food Street, Avenida Marginal Flor de Lotus, Cotai, Macau +853 8883 3338
Lord Stow's Garden Café, G/F C Houston Court 21 Largo do Matadouro, Coloane Village, Macau; lordstow.com
2:30PM Take in panoramic views of the city and head to the Macau Tower. Towering above at 
338 metres, taller than the Eiffel Tower, it offers some of the best views of Macau and home to Macau's highest revolving restaurant; 
the 360°Café. If the views don't quite cut it, the tower also accommodates the
 highest commercial bungy jump in the world. 
5pm
If your jet-lag starts kicking in or you just fancy some down town, check in or head back to the Four Seasons Macau Cotai. Why not indulge in a trip to one of the 14 luxurious spa suites or make yourself comfortable in one of the private cabanas by the pool.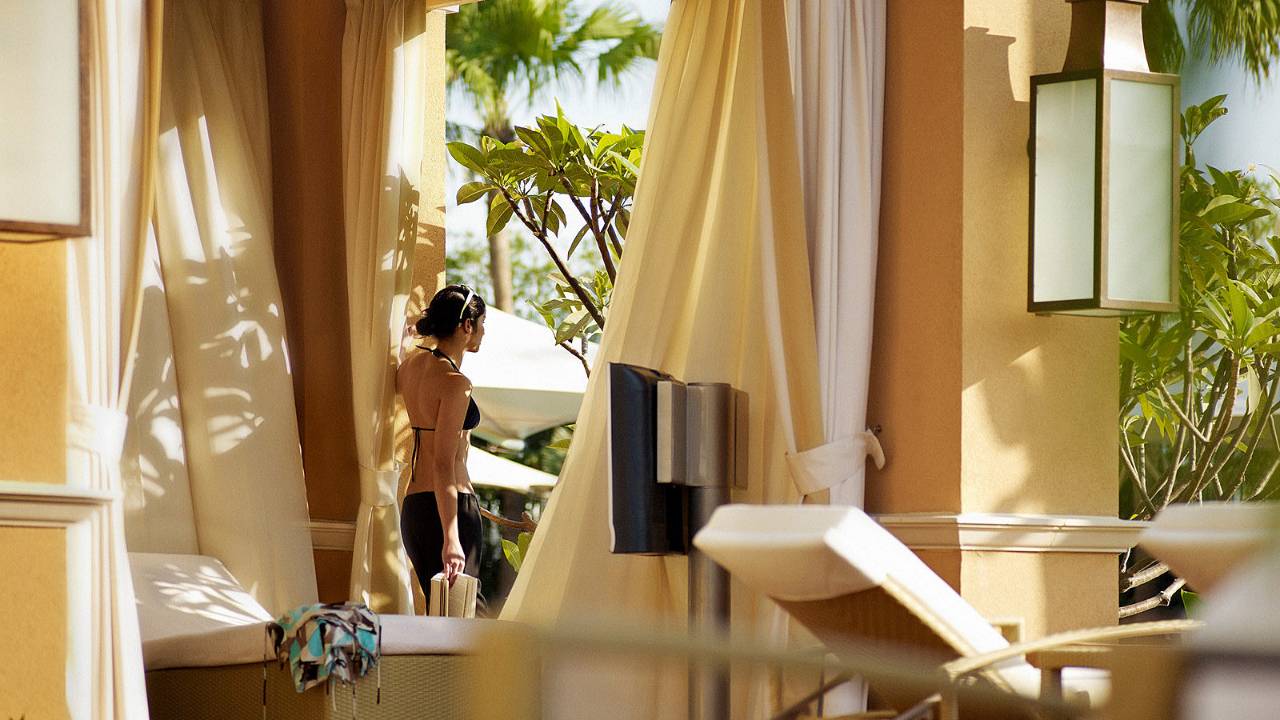 Four Seasons Hotel Macao Cotai Strip, Estrada da Baía de N. Senhora da Esperança, S/N, Taipa, Macau; fourseasons.com
8pm Enjoy dinner and one of Macau's highlights, The House of Dancing Water, the world's largest water show. After all the sightseeing, relax and enjoy 9
0 minutes of action featuring some of world's greatest gymnasts, circus artists, and dancers on a stage that transforms.
 DAY 2
9AM You're on vacation so why not indulge and have breakfast in bed. The Four Seasons Macau Cotai have an extensive room service menu that will satisfy your hunger. Enjoy everything this hotel has to offer and explore at your own pace.
Four Seasons Hotel Macao Cotai Strip, Estrada da Baía de N. Senhora da Esperança, S/N, Taipa, Macau; fourseasons.com
11AM If you're feeling lucky, then head on over to Macau's most famous casino, the iconic Venentian Macao. Said to be one of the 10 largest buildings in the world, The Venetian is complete with countless restaurants and shops and and exquisite gaming floor. Indulge your passion for shopping at the Grand Canal Shoppes, an upscale shopping area that houses an indoor Venetian canal with singing gondoliers and live entertainment shows.
Four Seasons Hotel Macao Cotai Strip, Estrada da Baía de N. Senhora da Esperança, S/N, Taipa, Macau; fourseasons.com
The Venetian, 
s/n Estrada da Baia de Nossa Senhora da Esperanca, Macau; venetianmacau.com
7pm Finish off the trip with a delicious Cantonese-inspired dinner that earned Zi Yat Heen its two prestigious Michelin stars. The restaurant combines fresh seafood with creative dim sum and impeccable service. We recommend the crispy crab claw with shrimp mousse and sautéed prawns with abalone sauce.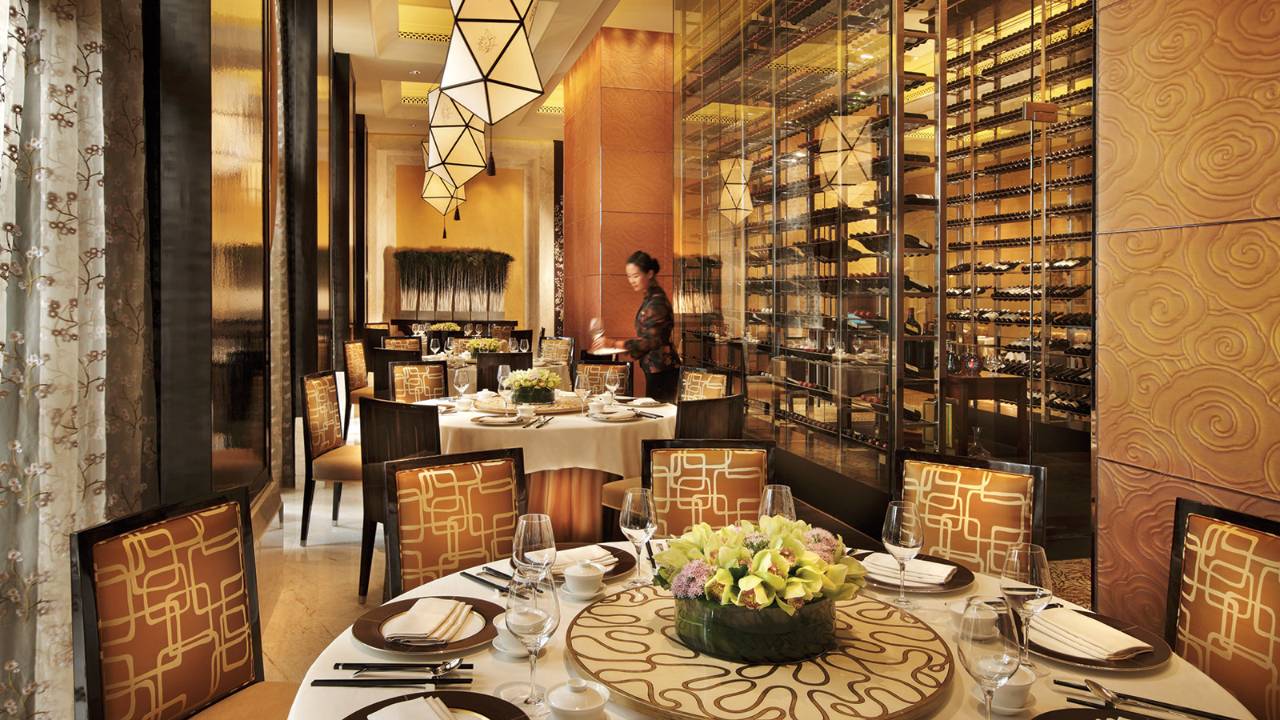 Zi Hat Heen, 
Four Seasons Hotel Macao Cotai Strip, Estrada da Baía de N. Senhora da Esperança, S/N, Taipa, Macau; fourseasons.com
So whether you decide to go stroll down the cobblestone alleyways, photograph the pastel colonial buildings, try your luck in a casino or delve into an addiction for egg tarts - Macau is a great destination for a quick trip. So put your 48 hours in Macau to good use!